Working For The Smaller Investor
QB Land Sales & Acquisitions Co's objective is to make land with prime development prospects available to the retail investor in the same way that securities (like bonds and equities) are.
Our clients are those smaller investors who are keen to expand their investment portfolio but perhaps lack the expertise, resource or experience to assess the development potential of land, or negotiate its purchase.
We work on behalf of our clients and assist them in the purchase of house sized plots of land with clean title, and free of the many problems that can prevent non residential land being successfully designated for housing use.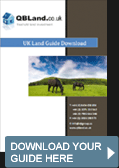 Behaving Ethically
Direct investment in property, including land, is not regulated by the Financial Services Authority, however the founders of QB Land came from a regulated investment environment and appreciate the necessary importance of complete transparency and prudence.
That is why we behave as if were regulated.
We make no unjustifiable claims, we are transparent in everything we offer, we advise as to the 'upside' and 'downside' of any land investment and we discuss all our activities with the Financial Services Authority. in addition we use a leading City law firm to advise us every step of the way.
This we do for your protection.
Through our partnership with Vantage Land and UK Land Directory, QB Land Sales & Acquisitions Co provide one of the most extensive selections of land for sale nationwide.